Tarot Certificate Program
Certificate Program  ZOOM IN FROM ANYWHERE IN THE WORLD
The tarot class is taught on Zoom and meets one Saturday per month, for three years
Year 1  84 hours Cost $1470  Start Date: Saturday, October 16, 2021 9 am- 5pm
Year 2  84 hours Cost $1470  Start date: Saturday, October 15, 2022 9am – 5 pm
Year 3  84 hours Cost $1470  Start date: Saturday, October 21, 2023 9 am – 5 pm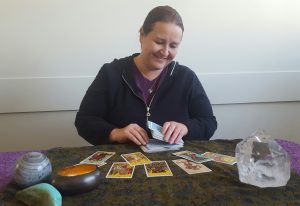 The tarot is an ancient tool of self-development and oracular guidance which has successfully met the tests of centuries of application.
This is an experiential course that uses a variety of techniques to unlock the symbolic mysteries of the tarot.
It is appropriate for the beginner, the advanced student as well as therapists.
Some students will come for self-development and personal use, some as a tool in their therapy practice, while others will be attracted to exploring a career in reading tarot.
The tarot class is taught on Zoom and meets one Saturday per month for three years.
 NEW PROGRAM START DATE TBA